Alabama Clean Comedian for Hire
100% clean stand-up comedy show suitable for all ages and backgrounds. Plus, David is happy to customize his performance with jokes about your company or organization.
Nationally-touring clean comedian David Ferrell has recently performed in: Birmingham, Boaz, Dothan, Guntersville, Huntsville, Opp, Orange Beach, Rainsville, AL and other cities.
Recent Reviews from Alabama
Church Valentine's Banquet in Dothan, AL
David Ferrell did a fantastic job. He was very funny, clean, and engaging with our people; perfect for our church's Valentines banquet!"
- Senior Pastor, Mount Gilead Baptist
Annual Banquet in Rainsville, AL
David Ferrell did an awesome job of entertaining at our 50th Annual Banquet. We are a small rural town, and everyone is still talking about the Banquet and that it was the best one ever. They loved David's performance. He was clean, funny and quick witted. I was very impressed with the way he engaged the audience. We are very appreciative of David for making our banquet a success, and we would highly recommend him."
- Assistant Executive Director, Rainsville Chamber of Commerce
Fundraiser in Birmingham, AL
David Ferrell was so good and so funny at our fundraising event, I am tempted to have him back every year! He kept the whole audience in stitches the whole time and everyone has had nothing but compliments about how much they loved the event! Many are asking when the next event will be they loved it so much! If you are looking for a truly funny guy who relates well, David is your guy. Since this was our first fundraiser (yes, first EVER) we were very pleased to raise $33,900! God has been good to us and I believe He led us to David. He was perfect for our night, kindhearted, honest, professional, and went the extra mile to help with the sound and other suggestions that really added to the overall experience. I would not hesitate to recommend him to any audience."
- Director, ARA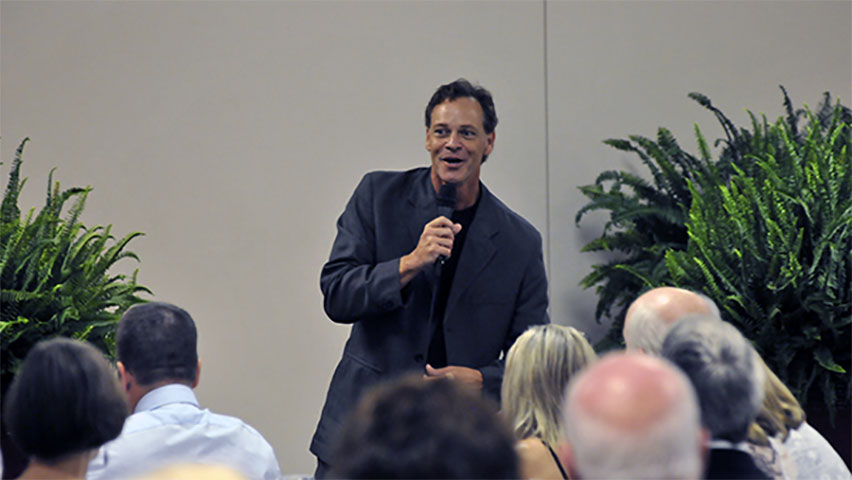 Fundraiser Gala in Opp, AL
David Ferrell was very prompt and professional and I've heard nothing but positive comments about him and his material. He did a great job at the conclusion of his act by sharing a personal experience with a small community hospital, which tied into our event. Great experience from beginning to end. Thank you!"
- Event Chair, Mizell Memorial Hospital Foundation
Awards Banquet in Orange Beach, AL
David Ferrell exceeded our expectations. He was on time, very professional, has a great personality, connected with our audience, was very funny and everyone enjoyed his presentation."
- Administrative Treasurer, Alabama Governor's Labor Management Conference
Homecoming in Boaz, AL
David Ferrell was the perfect choice for our Alumni Homecoming. He is extremely funny, friendly and was great to work with. His interaction with the audience added hometown humor that kept everyone laughing. Positive comments from our members have been overwhelming. Thanks, David!"
- Alumni Assistant, Snead State Community College
Christmas Party in Guntersville, AL
Everyone really enjoyed the entertainment by David Ferrell. He interacted with the audience well! Great job!!!"
- Corporate Administrator, Davis Lee Companies, LLC
Driver's Banquet in Dothan, AL
Just a quick note of thanks to David Ferrell for a well done job. The microphone stopped working and the act was still very good. I will recommend David for additional McLane functions."
- Transportation Manager, McLane Dothan