Florida Clean Comedian for Hire
100% clean stand-up comedy show suitable for all ages and backgrounds. Plus, David is happy to customize his performance with jokes about your company or organization.
Nationally-touring clean comedian David Ferrell has recently performed in: Amelia Island, Casselberry, Jacksonville, Melbourne, Miramar Beach, Orlando, Palm Beach Gardens, Ponte Vedra Beach, Tallahassee, FL and other cities.
Upcoming Schedule
| | | |
| --- | --- | --- |
| 12/7/2019 | Miramar Beach, FL | Company Year-End Party |
Recent Reviews from Florida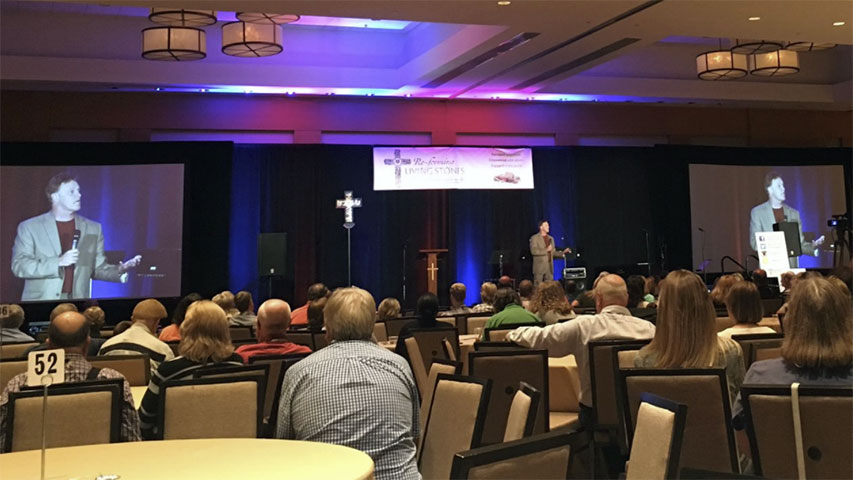 President's Convocation in Ponte Vedra Beach, FL
We found David Ferrell to be very relational with our attendees. He involved them, encouraged them, and laughed with them before, during and after his performance. David did not set himself apart but rather engaged with the community of our conference. His professionalism, ready wit and smile made for an enjoyable evening - with laughter, joy and light. We would definitely have him back!"
- Assistant to the President, Florida-Georgia District, Lutheran Church - Missouri Synod
NCPCM/SCPMA Joint Annual Convention in Amelia Island, FL
We had 566 people in attendance; however, I only received 60 evaluations (approx. 10 percent). This is more than I usually receive. I look at it this way, if someone was not happy, they would have filled out an evaluation. So, I would say 90% were pleased with everything including his performance. Here are his ratings from the 60 evaluations: 11 Excellent, 19 Good, 21 Fair, 1 Poor."
- Director of Administration, South Carolina Petroleum Marketers Association
Summer Convention in Amelia Island, FL
David Ferrell met our objectives perfectly. Everyone enjoyed the morning and they carried that spirit forward into the next session. Thanks for working with us."
- VP of Membership Services, Georgia Health Care Association
Annual National Convention in Orlando, FL
David Ferrell was terrific. He engaged the audience in his show - one table was particularly engaging. He worked our conference theme 'Character Counts' into his characters segment of the show. When he closed with a song he wrote about batteries, it brought the house down. I would highly recommend David for any group that wants to have a good time."
- Project Manager, Battery Alliance, Inc.
Annual Men's Retreat in Orlando, FL
All feedback I received from our guys was that David Ferrell did an awesome job which is in agreement with my opinion. David kept the men laughing the entire time and was multi talented between comedy, Impressions, singing and was very engaging with the audience. David arrived on Friday evening at the time he estimated he would arrive and from what I seen integrated with the men during meals & activities prior to his performance which was awesome to see."
- Southwest Region Director, Southeastern District Alliance Men
Annual Fundraiser in Melbourne, FL
David Ferrell delivered as promised! A clean, inspiring, fantastic performance with plenty of laughs for all ages! I would recommend him for anyone!"
- Pastor of Students and Families, First Baptist Church of Eau Gallie
Food Bank Charity Event in Casselberry, FL
David Ferrell was awesome, much better than we even believed. I think we can have another comedy event with him as the comedian and have double the crowd because all those who were there will tell someone else!!! He is very talented, not just in comedy but a beautiful singing voice. He blew us away!!"
- Event Planner, Tuskawilla Shepherd's
Regional Awards Luncheon in Jacksonville, FL
David Ferrell did a great job! Thank you."
- Director of Marketing, WRH Realty Services, Inc.