Indiana Clean Comedian for Hire
100% clean stand-up comedy show suitable for all ages and backgrounds. Plus, David is happy to customize his performance with jokes about your company or organization.
Nationally-touring clean comedian David Ferrell has recently performed in: Anderson, Brook, Carmel, French Lick, Indianapolis, Jeffersonville, Kokomo, Linton, Madison, Marion, Munster, Portland, Shipshewana, Wabash, IN and other cities.
Recent Reviews from Indiana
Dinner & Silent Auction in Carmel, IN
David Ferrell's performance is a perfect match for our annual fundraising event. He is clean, funny, and well received by guests of all ages"
- President & Executive Director, Camptown, Inc.
Customer Appreciation Dinner in Wabash, IN
David Ferrell entertained at our Customer Appreciation Supper, and we would definitely recommend him. He was very professional, personable, and polite. He arrived one hour before our banquet started. David did an awesome job, and we couldn't have asked for anyone better. They say farmers are some of the hardest people to entertain and get to smile, let alone laugh! And David had our customers doing both! He did an amazing job with keeping the funny stories coming. We were definitely pleased with David."
- Office Manager, Crop Fertility Specialists
Annual Customer Appreciation Dinner in Brook, IN
David Ferrell was an excellent entertainer for our event. He showed up early, was very professional, and was just an overall pleasant person to deal with. His material was clean, current and he had the audience laughing out loud! We really enjoyed having him at our event!"
- Administrative Assistant, Wilson Fertilizer, Inc.
National No-Tillage Conference in Indianapolis, IN
David Ferrell was a wonderful diversion for our educationally focused meeting. His clean style of comedy was ideal for our folks and helped us to relax and laugh about life and ourselves for a while. Thanks again for a great time."
- Executive Editor, Lessiter Publications
Volunteer Celebration in Indianapolis, IN
David Ferrell was incredible. He showed up on time and was very accessible to the people. Everyone loved having him. From the beginning to the end, he had everyone laughing. Many said that it was the best time they have had at one of these events. I know that our volunteers was inspired and encouraged! We would love to have Mr. Ferrell back again."
- Associate Pastor, Grace Assembly of God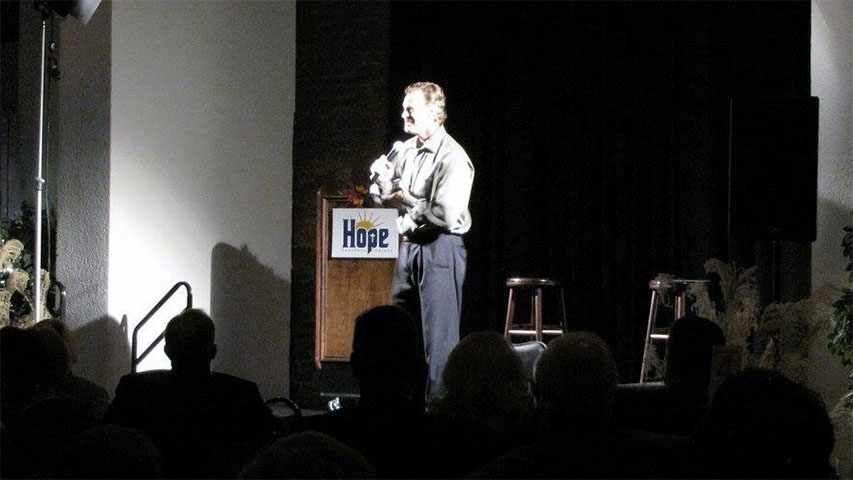 Evening of Joy in Jeffersonville, IN
David Ferrell was awesome. He more than provided the laughter the event called for and was extremely professional. Thanks again for helping us make our event the success that it was."
- Board Chair, Hope Southern Indiana
Fundraising Banquet in Marion, IN
David Ferrell was very entertaining and people really enjoyed him. Many said it was the best entertainment we've had."
- Executive Director, Gilead Ministries
Customer Appreciation Dinner in Portland, IN
David Ferrell did a great job and we had good feedback from our attendees. Many told us that they really appreciated being able to bring their families to enjoy a good laugh without worrying about the kids hearing something they shouldn't. I think he did well at making his material fit our audience, too."
- Commodity Manager, POET Biorefining
Christmas party in Munster, IN
We thought David Ferrell was great! He arrived early at the venue to check it out, do a sound check, etc., which was a real relief since our entertainment for our Christmas party last year got lost and arrived 15 minutes after they were supposed to go on! He was friendly, professional, and had done his "homework" regarding our organization, which was appreciated. Our guest's ages ranged from early 20's to almost 70, and I think that could make it difficult to relate to everyone, but I think for the most part he connected with all ages, and was very relatable. Comments I've heard have all been positive, and one employee even said, "My wife was laughing so hard she was crying, and I haven't seen that in a long time." We loved his impressions, and David really helped make this a very enjoyable and memorable evening for all of us!"
- Special Events Coordinator, Bible League International
Christmas Party in Shipshewana, IN
David Ferrell did a great job with our audience. He was on time and communicated with me before the show which always helps. He was funny, very professional, and adjusted his show to our cliental. We had a great time. Thanks again."
- Plant Manager, Forest River, Inc.
Christmas Comedy Night in Anderson, IN
David Ferrell exceeded our expectations. Loved his connection with the audience. He was very well received."
- Administrative Assistant, Faith Church
Physician Holiday Party in Linton, IN
David Ferrell did a great job at our event. He was very entertaining and everyone enjoyed his clean comedy. I've received feedback from many attendees that they really enjoyed his show. Thank you!"
- Executive Assistant, Greene County General Hospital
Church service in Madison, IN
David Ferrell was AWESOME!!! My pastor loved him, my church loved him, I think all of Madison, Indiana loved him!!! He has been gifted by God to bring laughter to people. I hear children laugh on average 150 times a day and adults laugh on the average 6 times a day. Well with David Ferrell here, we were like children! We were very blessed and had a BLAST!!!"
- Children's Pastor, Madison Assembly of God
Fundraising event in Carmel, IN
David Ferrell was very easy to work with. I especially liked the way that he ended the program which tied his performance back to what we were really there for - raising funds for Camptown."
- Program Support, Camptown, Inc.
Christian Comedy Night in Madison, IN
Great performance. David was very easy to work with. I was pleased with all of the areas. We would consider David Ferrell for another event."
- President, Chi Alpha of Ivy Tech Madison
Christmas party in Kokomo, IN
We had a great time with David Ferrell. He connected with the audience quickly and brought a lot of energy and laughs."
- Associate Pastor, Family Worship Center